Welcome news for the July Denver Metro Real Estate Market Update and market final figures for June - it shows the number of homes for sale has DOUBLED from May (3,833) to June (7,671) this year.

That is VERY WELCOME news - for both sellers and buyers.

Even though the buying frenzy has decreased some, we're still experiencing multiple offers and homes going Under Contract rapidly and for way over asking price.

However, we're also starting to even see a few price reductions which indicates the buying frenzy has eased some.

Some reasons for the easing of the buying frenzy are the DOUBLING of homes for sale from May to June; Some discouraged buyers have exited the market after getting beat out in numerous bidding wars; Some sellers are overpricing their homes - even for this market; and contrary to popular opinion, there is a summer housing lull while buyers go on vacations with their families.

The number of Pending and Closed Listings for June has decreased from May of this year - 32% and 20% respectively.

BUT the Average Closed Price figures for June are still AMAZING. The Average Closed Price is UP 21% from 1 year ago.

The Average Closed Price for June was $642,167 compared to January 2021 when the Average Closed Price was $540,857. That's over $100,000 increase.

If you are thinking about selling your home, be prepared for competing offers; how to choose the right offer for you and the offer that has the best chance of closing. (PS, it's not always the highest priced offer). You might see terms such as Appraisal Gap, Escalation Clause, Non-Contingent Offers, Modification of Inspection Objection Clauses, Back Up Contracts, Post Closing Occupancy Agreements, Appraisal Waivers, Hard Earnest Money, Buyers offering to take care of anything the Seller wants to leave behind after moving (furniture, trash, old hot tubs, junk in the yard, etc.).

No wonder it is difficult to understand and choose the best offer that has the highest price AND the best chance of closing.

Now for a shameless plug. I am a knowledgeable, trusted and experienced agent that can help you achieve your real estate goals. You win when we work together

Take advantage of today's low rates before they begin to rise. Whether you're thinking about moving up, downsizing, or refinancing, let's connect today to discuss which option is best for you.

Below is the chart for the AVERAGE CLOSED PRICE for the last 3 years. Look at that below chart and the sharp upward trend.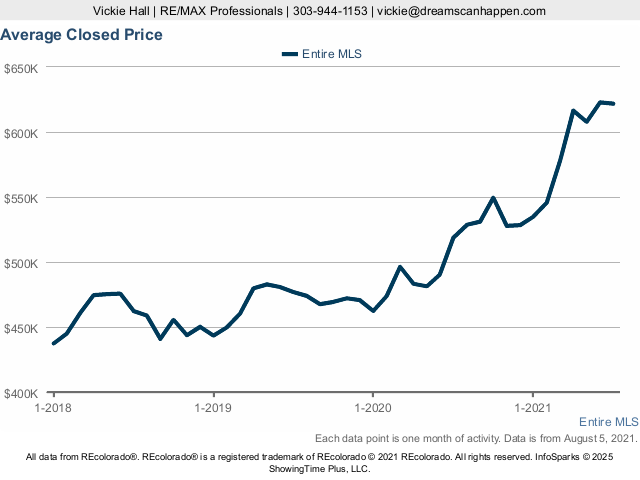 That's the July Denver Metro Real Estate Market Update with the final June statistics.

Below are offers for free information, handbooks and videos to help you realize your real estate goals.

Cheers,


Vickie Hall, Realtor
RE/MAX Masters Millennium
303-944-1153 – Cell
303-771-9400 – Office

PLUS: Whenever you are ready, here's some ways that I can help with your real estate goals.

1) Sell Your House to RE/MAX Masters Millennium How much would we pay you for your home?
Which works better for you? Sell your home for retail? Or sell your home for wholesale with no hassle?

2) Obtain my free "Guide to Selling Your Home This Summer"

This informative guide is attached at the bottom of this email and will explain how to Leverage Your Equity to Make a Move and why Low Inventory is a Win for Sellers among other current issues.

3) Obtain my free Home Prices Report on your specific neighborhood

You're thinking about selling your home, but you are not sure what the real estate market is doing. You don't even know what the neighbors down the street sold their home for last month. You want to know what homes around you are selling for, but you're really not ready to meet with a realtor yet. Click Here for a Home Prices Report

Also….check these out??

Denver Home Finder Service
Denver Home Seller Service
Cherry Creek School District Homes For Sale